Vasilije
Ivanovic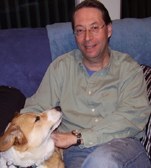 Graduate Representative
Office Phone

:

(814) 863-0589
Education:
B.A. in American Studies (major) and Japanese Studies (minor) at Goethe University, Frankfurt, Germany (2014-2016)

MEXT scholarship and Japanese Language Program at Keio University, Tokyo, Japan (2017-2018)
Biography:
Vasilije Ivanovic is a first-year PhD student in the dual title program for Comparative Literature and Asian Studies at Pennsylvania State University. His preliminary dissertation project explores science fiction literature in Japan, Germany, and the USA after 1945, examining how it was part of the rise of cultural power after WWII, with a special focus on contemporary notions of the USA and Japan as "cultural superpowers". Beyond his dissertation project, Vasilije also has research interests in translation studies (he has been a translator for over a decade), particularly German/Japanese/English translations and translational literature; science fiction studies, particularly Cyberpunk, Postmodern and Golden Age science fiction, and Asian science fiction; world literature studies; and human-animal studies.
Areas of Specialization:
Science Fiction Studies
Translation Studies
World Literature
Human-Animal Studies