2021 Penn State Marathon Reading
"Escape it All"
When: September 9, 2021
Time: 10:00 a.m. – 10:00 p.m.
Where: Pattee/Paterno Lawn (in front of Sparks/Burrowes building)
Email marathonread@psu.edu to sign up to read!
Our theme for this year's Marathon read is Escape It All.  The concept is a universal theme that can be found in literature through the ages.  Globally, people are escaping from situations that are either difficult or mundane.  The "Escape" gives the readers freedom or allows them to gain a new perspective on their everyday lives.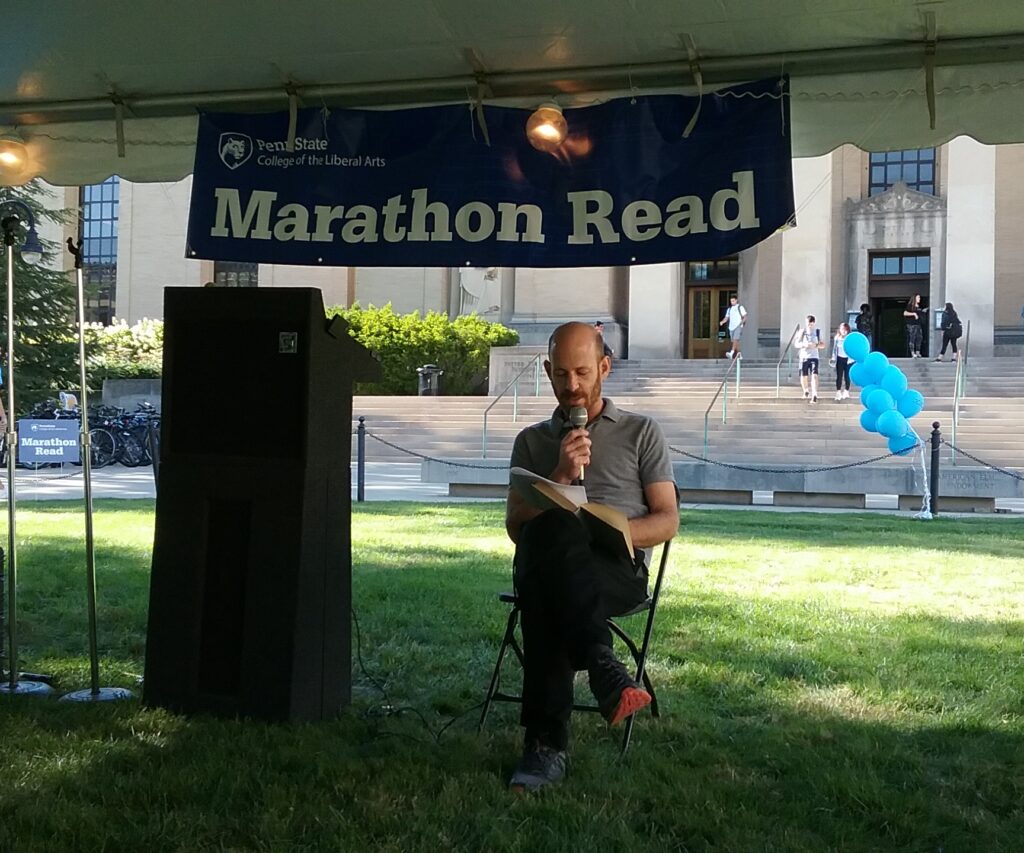 BOOK LIST FOR THE 2021 MARATHON READ: ESCAPE IT ALL
Soredemo 3 gatsu wa, mata [March was made of yarn] (ed. by E. Luke and D. Karashima. Original language: Japanese
Stitching A Whirlwind: An Anthology of Southern African Poems and Translations. (ed. by Antjie Krog and Megan Hall). Various languages
Humus by Fabienne Kanor. Original language: French
Le petit prince by Antoine de Saint-Exupéry. Original language: French
Tschick [Why we took the car] by Wolfgang Herrndorf. Original language: German
La invención de Morel [The invention of Morel] by Adolfo Bioy Casares. Original language: Spanish
Marcovaldo by Italo Calvino. Original language: Italian
北京折叠 ["Folding Beijing"] by Hao Jingfang. Original language: Chinese
We will have copies of each book in its original language and English translations. You are welcome to read from this list or bring your own text in any language about escapes, including but not limited to:
Escape from reality/into alternative realities
Escape from isolation
Escape from boredom
Escape from prison
Escape from everyday life (either good, as in routine, or bad, as in dangerous/violent situations)
Escaping social injustice
Perilous escape of refugees and migrants
Escape from imminent danger and diseas