Elizabeth
(Liz)
Schoppelrei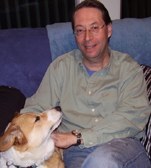 ems57 [at] psu [dot] edu
252 Burrowes Building

Office Phone

:

(814) 863-1125
Education:
MA, Pennsylvania State University, 2018

BA, Wright State University, 2016
Biography:
Liz Schoppelrei is a fifth-year PhD Candidate in the dual-title program of Comparative Literature and Women's, Gender, and Sexuality Studies. They also hold a minor in German. With a strong focus on German queer culture, their dissertation examines textual representations of queer community and how taxonomies of gender and sexuality can undergird speculative community formation. Their research interests include: Weimar lesbian and transvestite periodicals, American poetry slam, queer theory, feminist theory, fat studies, and queer and trans community formation.
Their article "'Full Body Intersection': Fat Positive Activism, Poetry Slam, and Rachel Wiley" appeared in Fat Studies: An Interdisciplinary Journal of Body Weight and Society in 2018. During the 2019-2020 academic year, they were a Fulbright Graduate Fellow at the Universität Potsdam completing research on their project: "Contested Communities: Lesbian and Transvestite Poetry in Die Freundin (1924-1933)."
Classes Taught:

 
CMLIT 122 (Global Science Fictions): Emphasis on gender and sexuality in sci-fi
CMLIT 101 ( Race, Gender, and Identity in World Literature): Emphasis on graphic narrative forms
Areas of Specialization:

 
20th and 21st Century Poetry
Gender and Sexuality
Weimar Queer Culture
Queer and Feminist Theory