Brian
Lennon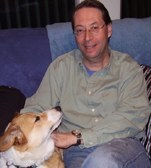 Associate Professor of English and Comparative Literature
Director, Digital Culture and Media Initiative
Office Phone

:

(814) 865-6261
Education:
Ph.D., Columbia University (2005)

M.F.A., University of Iowa (1999)

B.A., Wesleyan University (1993)
Biography:
I direct the Digital Culture and Media Initiative in the Department of English. I have published on topics at the intersection of computing and media, translation, multilingualism, and genre theory, with special interest in the imperial history of philology and the linguistic history of computing. I am the author of In Babel's Shadow: Multilingual Literatures, Monolingual States (University of Minnesota, 2010), a study of literary multilingualism, and City: An Essay (University of Georgia, 2002), a suite of autobiographical fragments, as well as recent articles on password security, machine translation, and the history of the "digital humanities" movement, among other topics.
Books
In Babel's Shadow: Multilingual Literatures, Monolingual States (University of Minnesota, 2010)
Areas of Specialization
Contemporary Literature

Theory and Cultural Studies