Adrian
Wanner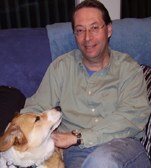 Liberal Arts Research Professor of Russian and Comparative Literature
Office Phone

:

(814) 865-1097
Education:
PhD, Columbia University, 1992

MA, University of Zurich, 1987
Biography:
I grew up in the Swiss town of Schaffhausen near the Rhine Falls.  After graduating from the local high school with an emphasis on Classics, I studied French and Russian Philology in Zurich, Paris, Leningrad, and at Columbia University, where I obtained a Ph.D. in Russian literature with a thesis on the Russian reception of Charles Baudelaire. I have been teaching at Penn State since 1996.  My main appointment is in the Department of Germanic and Slavic Languages and Literatures, where I served as head from 2000 to 2008 and am currently the co-director of graduate studies.  My original research interests included symbolism, literary relations between Russia and Western Europe, the prose poem, and utopian studies.  More recently, I have focused on the literature written by contemporary Russian-Jewish émigré authors in French, German, English, and Hebrew.  I am also an active translator of poetry.  In addition to three scholarly monographs I have published six bilingual editions of Russian, Romanian, and Ukrainian poetry in my German verse translation.
BOOKS
Vladislav Chodasevič: Europäische Nacht/Европейская ночь.  Wuppertal/Vienna: Arco Verlag, 2013. 
Out of Russia: Fictions of a New Translingual Diaspora.  Evanston, IL: Northwestern University Press, 2011. 

Der Klang von Sonnenklarinetten: Drei Lyriker der ukrainischen Moderne.  Zurich: Pano Verlag, 2008. 

Liliana Ursu: Im Spiegel der Schmetterlinge.  Zurich: Pano Verlag, 2005.
Miniaturwelten: Russische Prosagedichte von Turgenev bis Charms.  Zurich: Pano Verlag, 2004.
Russian Minimalism: From the Prose Poem to the Anti-Story.  Evanston, IL: Northwestern University Press, 2003. 
Innokentij Annenskij: Die Schwarze Silhouette.  Zurich: Pano Verlag, 1998. 
Baudelaire in Russia.  Gainesville, FL: University Press of Florida, 1996. 
Alexander Blok: Gedichte.  Frankfurt a.M.: Suhrkamp Verlag, 1990

AREAS OF SPECIALIZATION
Russian Literature

Translation

Translingual Diaspora Fiction