The 2018 Marathon Read joined in the commemoration of 50 years since the watershed year of 1968. The Marathon Read featured texts written or published in 1968, including Philip K. Dick's novel Do Andriods Dream of Electric Sheep? and works from Joan Didion, Gwendolyn Brooks, Alice Munro, Jorge Luis Borges, Susan Sontag, Galway Kinnell, and others.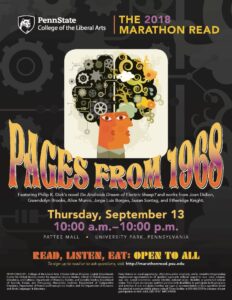 The 2018 Marathon Read occurred on September 13 from 10am to 10pm on the Pattee Mall.
Check out a recap from Emily Morrison, intern with the Center for American Literary Studies, and coverage from the Daily Collegian.