PH.D. Candidate in Comparative Literature and German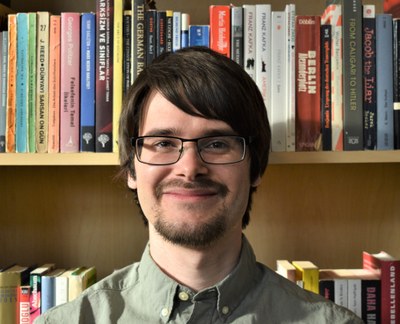 Education
M.A. English Literature, Yeditepe University, Istanbul, 2016
B.A. Comparative Literature and German Studies, University of Georgia - Athens, 2011
Professional Bio
Duncan is a sixth year Ph.D. candidate specializing in transnational German literature with emphases on Turkish-German Studies and literary multilingualism.
His dissertation examines the form of peripheral realism developed by Turkish-German authors who drew on conceptions of realism which circulated between the pre- and post-war German states, Soviet Union, and Turkish Republic in Turkish-German literature. Proceeding from this literary-historical context, "Allotropes of Realism: The Bilingual Political Imaginary of Turkish-German Literature (1972-2015)" demonstrates how the intersection of bilingual writing strategies with realist aesthetics allowed writers such as Fakir Baykurt and Emine Sevgi Özdamar to figure novel forms of political collectivity across the borders of class, nation, gender, and language.
In addition to his article "'Habt ihr was für mich?': Critical Collectivity in Terézia Mora's 'Selbstbildnis mit Geschirrtuch' (2016)," which appeared in German Quarterly, Duncan has published on the poetry of Hugh MacDiarmid and Charles Tomlinson in Philosophy and Literature. He is the recipient of the 2020 Gutekunst Prize of the Friends of Goethe New York for his translation of an excerpt from Dilek Güngör's novel Ich bin Özlem (I am Özlem). Other teaching and research interests include language pedagogy, global migration literature, human rights narratives, and visual narratives.
Classes taught:

CMLIT 130: Banned Books – Spring 2023
CMLIT 107: The Literature of Exploration, Travel, Migration, and Exile – Fall 2022
CMLIT 108: Myths and Mythologies (Online) - Summer 2020
GER 002: Elementary German II - Spring 2020

GER 002: Elementary German II (Online) - Spring 2020

GER 001: Elementary German I - Fall 2019

CMLIT 143: Human Rights and World Literature - Spring 2019

CMLIT 153: Film and Literature (Online) - Summer 2018

Areas of Specialization:
Comparative Middle East and North Africa
Comparative Modernisms and Modernities
Critical Theory and Philosophy
Migration, Diaspora, Globalization
Translation and Translation Studies