Jonathan
P.
Eburne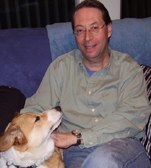 Associate Professor of Comparative Literature, English, and French and Francophone Studies
Office Phone

:

(814) 863-0968
Websites:
Education:
University of Pennsylvania, Ph.D. in Comparative Literature and Literary Theory (2002)

Dartmouth College, A.B. in High Honors English and French, Magna Cum Laude (1993)
Biography:
Jonathan P. Eburne is editor-in-chief and co-founder (with Amy J. Elias) of ASAP/Journal, the scholarly journal of ASAP: The Association for the Study of the Arts of the Present (https://www.press.jhu.edu/journals/asap_journal/); he is also editor of the "Refiguring Modernism" book series at the Pennsylvania University Press. He is the author of Outsider Theory: Intellectual Histories of Unorthodox Ideas (Manchester University Press, 20128) and Surrealism and the Art of Crime (Cornell University Press, 2008) and the co-editor of four additional books. He has also edited or co-edited special issues of Modern Fiction Studies, New Literary History, African American Review, Comparative Literature Studies, Criticism, and ASAP/Journal. Eburne is acting President of ISSS: International Society for the Study of Surrealism and President of the Association for the Study of Dada and Surrealism, and in 2015 was President of ASAP: The Association for the Study of the Arts of the Present.
Eburne's teaching and scholarly interests include international avant-garde movements, twentieth- and twenty-first century literature and the arts, and literary and cultural theory.
BOOKS
Surrealism and the Art of Crime (Cornell University Press, 2008)
AREAS OF SPECIALIZATION
Visual Culture

Theory & Criticism