Jonathan
P.
Eburne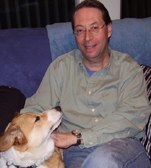 Associate Professor of Comparative Literature, English, and French and Francophone Studies
Office Phone

:

(814) 863-0968
Websites:
Education:
University of Pennsylvania, Ph.D. in Comparative Literature and Literary Theory (2002)

Dartmouth College, A.B. in High Honors English and French, Magna Cum Laude (1993)
Biography:
Jonathan P. Eburne is editor of the "Refiguring Modernism" book series at the Pennsylvania University Press, and founding co-editor, with Amy Elias, of ASAP/Journal, the scholarly journal of ASAP: The Association for the Study of the Arts of the Present (https://www.press.jhu.edu/journals/asap_journal/). He is the author of Surrealism and the Art of Crime (Cornell University Press, 2008) and the co-editor, with Jeremy Braddock, of Paris, Modern Fiction, and the Black Atlantic (Johns Hopkins University Press, 2013) and, with Judith Roof, of The Year's Work in the Oddball Archive (Indiana University Press, 2016). He has also edited or co-edited special issues of Modern Fiction Studies, New Literary History, African American Review, Comparative Literature Studies, and Criticism. Eburne is President of the Association for the Study of Dada and Surrealism, and was the 2015 President of ASAP: The Association for the Arts of the Present.  He is currently working on a book called Outsider Theory.
Eburne's teaching and scholarly interests include international modernism, avant-garde movements, twentieth- and twenty-first century literature, and literary and cultural theory.
BOOKS
Surrealism and the Art of Crime (Cornell University Press, 2008)
AREAS OF SPECIALIZATION
Visual Culture

Theory & Criticism